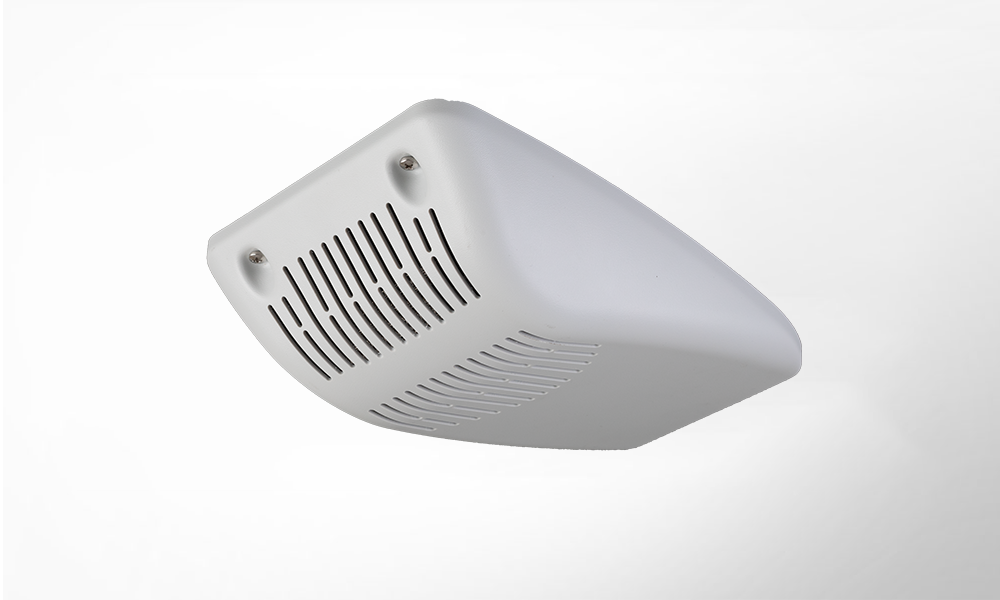 Article no.: Viromaxx

Reliable virus protection for buses and trains – vehicle disinfection using bipolar ionization.
Description
With the new VIROMAXX, ROSHO, system provider for safety solutions in commercial vehicles, has now developed a highly effective virus protection together with its partner Bioclimatic. This is based on bipolar ionization and is simply mounted on the vehicle ceiling. In this way, up to 99% of viruses and germs can be eliminated in buses & trains. The compact virus protection for buses and trains reliably renders viruses, germs and bacteria harmless and cleans up to 20 cubic meters of the room air.
How the system works
Ionization "clumps" the virus, significantly reducing further spread, and thus serves as a preventive means of reducing the risk of infection in vehicles! During this process, oxygen and hydrogen molecules in the air are split into positive and negative ions. The ions then attach themselves to viruses, pollen, germs & co., rendering them up to 99% harmless. The result: the air becomes neutralized and fresher. This process is directly imitated from nature. With bipolar ionization, depending on the room conditions, ozone can be generated to the same extent as it naturally occurs as a component of the outside air anyway.
The idea behind it
Back in 2017, ROSHO and its development partner Bioclimatic came up with the idea of making public transport safer and thus even more attractive in terms of reducing viruses, germs and bacteria – especially with regard to fully occupied buses and trains. In summer, the air in a room gets used up particularly quickly. In addition, a variety of more or less good odors flow around us. In winter, on the other hand, the air in the vehicle is full of viruses and germs. We wanted to enable a better indoor climate, reduce the virus load and set to work accordingly. By the way, allergy sufferers also benefit from VIROMAXX, as allergens in the air are also inactivated or rendered harmless.

Features
Request the product directly: