Optimal visibility
for farmers
With our camera monitor systems, you always have the environment of your agricultural machinery in view.
More safety for your agricultural machinery
Whether in the field or on the road, during the day or at night: With our video systems, drivers of commercial vehicles have an all-round view of the entire work area. Particularly with large and complex machines, support from reliable electronics is indispensable today – it is the only way to protect people, assets and machines and to organize processes efficiently. In this way, the areas in front of, next to and behind the vehicle can be conveniently monitored at all times. Even hidden areas such as a bale chute are on the vehicle operator's radar.
Whether tractor, combine harvester, excavator or trailer – we find the right solution for every constellation Engineered in Germany.
Feel free to contact us!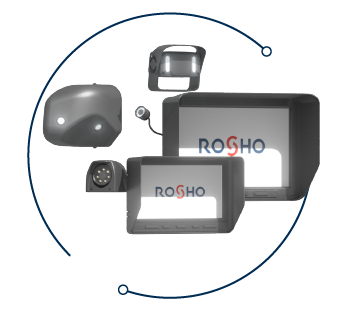 Camera and monitor systems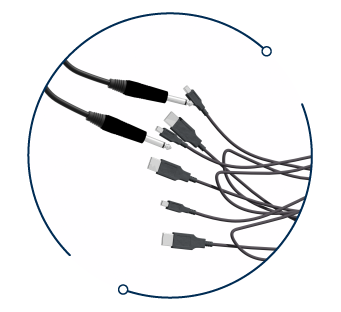 Camera and monitor systems
Full view for your agricultural machinery
To ensure that your agricultural machinery and special vehicles are safe on the road at all times, our proven camera monitor systems provide the necessary overview to every side of the vehicle and into every maneuvering area.
We offer HD monitors in many sizes, high-resolution cameras with up to five megapixels, shock-resistant electronics, connectors for all vehicle types and much more.
On request, we can put together the right system individually – entirely according to your requirements and wishes.
Retrofit solutions for agricultural vehicles
In the field of agriculture and agricultural machinery, ROSHO offers retrofit solutions for almost all applications such as combine harvesters, corn choppers or tractors and trailers. Ask for your desired solutions in a straightforward manner and let us advise you.
Versatile and intelligent camera monitor solutions for your combine harvesters.

Versatile and intelligent camera monitor solutions for your shredders.


Versatile and intelligent camera-monitor solutions for hitched vehicles.


ACCURATE FIT. DURABLE. ROBUST.
Always the fitting connection
Our ADAS-D21FWS advanced driving assistance system is based on leading computer vision technology and uses cameras to perceive the road environment (including vehicles, lanes, pedestrians, traffic signs, etc.).
The ROSHO ADAS Front Warn System is capable of reducing collision accidents through early warnings by detecting potential collision dangers while driving.
The ADAS-D21FWS system can be used in almost all types of vehicles and supports different manufacturer systems (e.g. FCW, LDW, HMW, PCW, etc.).
We look forward to hearing from you: We will be happy to explain details of our solutions and products, answer your questions about installation and maintenance, or solve your problem quickly and straightforwardly. Simply fill out our contact form – we will get back to you as soon as possible!