Our location, our positions
We are firmly rooted. With our location in Lower Saxony – just as with the firm standpoints that determine our actions.
The roots of today's ROSHO GmbH Rose & Holiet go back to the 1970s: everything began with entertainment systems – initially not on four wheels, but for the retail and catering sectors The company entered the world of commercial vehicles in the 1980s with the development of audio-visual products for coaches, which quickly established themselves as sought-after alternatives to the market-leading products of the time. As pioneers, Rose & Holiet developed the first camera surveillance systems for vehicles.
Today, ROSHO Automotive Solutions has specialized in system solutions and products for trucks, public transport and commercial vehicles – for a good two decades as a contemporary and flexible company. We are optimally equipped for the future of mobility:
We have been using digital, networked and intelligent technologies for many years and are already working on the next step for more safety on the road – with innovative hardware and software that we refine into highly reliable complete systems
Audiovisual products
Entry into the world of commercial vehicles (coaches)
Camera surveillance systems
Development of the first camera surveillance systems in the vehicle sector.
System solutions for commercial vehicles
Today, ROSHO specializes in system solutions and products for trucks, public transport and commercial vehicles.
We help our customers with innovative solutions
ROSHO is one of the leading manufacturers of audio-visual systems, such as camera monitor systems and turn assist systems in Europe. Our solutions are installed as original equipment by many well-known vehicle manufacturers. In addition, our steadily growing sales network serves more and more customers in the after-sales sector. With products from ROSHO, you increase vehicle safety, enhance comfort and improve traffic flow. This benefits not only you as a user of our systems, but all road users: in the city, in the country, on and off the road.
Our employees at our headquarters in Bad Nenndorf, Lower Saxony, and in Garching, Bavaria, develop, produce and sell products and solutions for you with exceptional quality standards. As a system provider, we are not only concerned with trouble-free installation in your vehicles, but also with all the answers to market requirements.
This is how we work - so that you can move forward safely
In addition to good products and innovative technologies, we at ROSHO place another main focus on the values that are lived in our company.
ROSHO attaches great importance to long-term relationships. We value personal contact with our customers just as much as a trusting working atmosphere and long-term cooperation with selected technology partners.
Long-term business relationships are our top priority: As a trusted contact partner, we accompany many companies from consulting to support – and have been doing so for decades in some cases. Instead of ending up in a call center, inquiries are handled directly by competent and helpful specialists. We also maintain long-standing, personal contacts with our selected technology partners and licensed manufacturing companies from the EU, South Korea and Taiwan.
ROSHO works quickly, agilely and close to the needs of the market. Flat structures in powerful, competent teams enable short development cycles and practicable solutions for immediate use.
Whether it is a turn-off assistant, passenger counting or hygienic air purification through bipolar ionization: we can usually offer you our systems after short development cycles of less than one year – and with the usual high quality, whether for original equipment, after-sales or semi-OEM. This is made possible by the flexibility of a nimble company – and, above all, by our teams of creative minds who welcome every new challenge.
ROSHO treats people, the environment and resources with care. Certified environmental and quality management, first-class technology and the cooperation of all employees ensure the highest level of safety from planning and production to everyday use.
Quality management according to ISO 9001 is a matter of course for us, and we have it checked in regular audits. The aim is to optimize even the smallest weak points in processes through continuous improvement. Our environmental management is certified according to ISO 14001. Particularly important to us is the responsible use of resources – from raw materials to waste recycling.
ROSHO delivers on its promises of quality, on-time delivery and service. During development, we place great emphasis on reliability and safety. A 100% quality inspection in Germany is a matter of course for us.
At all times we pay attention to an absolutely faultless interaction of components manufactured in-house, produced under license and supplied by technology partners in our systems. From the first prototypes to series production, our developers always keep a watchful eye on quality and functionality. We are not satisfied with compromises.
ROSHO develops all solutions at its headquarters in Bad Nenndorf in Lower Saxony and in Garching in Bavaria, produces a large part of them itself and finalizes all solutions in Germany. For supplied technical components, we rely on long-term partnerships and manufacturing licenses with renowned manufacturers from the EU, Taiwan and South Korea. Each of our products and system solutions is subjected to strict quality control at ROSHO before delivery.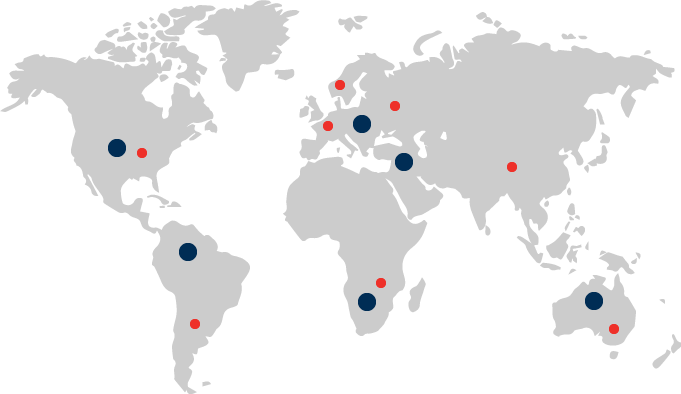 Our customers & partners around the globe
In order to constantly improve our systems and offer our customers innovative technologies, we work with a strong network of global partners. Convince yourself of our high-quality solutions in the automotive sector.
Your partner for automotive safety systems
Solutions and products from ROSHO increase safety as well as comfort – for vehicle drivers, passengers, control rooms and road users: Enjoy the good feeling of creating the best possible technical conditions for smooth vehicle operation.