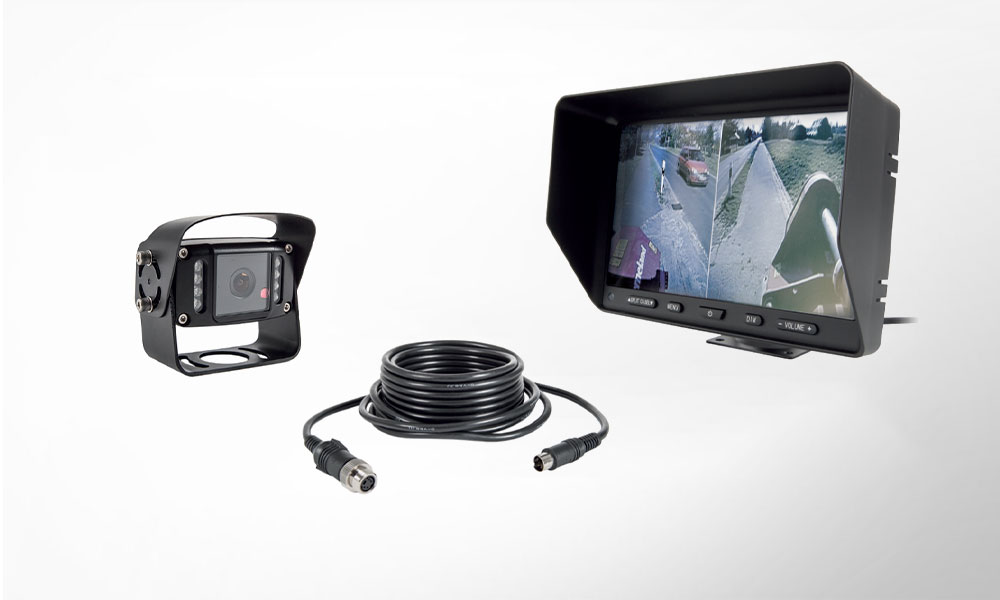 RS 70-2
The monitor-camera system consists of a 7″ monitor 703QHD, a camera RK 1405M and a 20m camera cable. The rugged housing is ideal for outdoor use in HGVs, agricultural and other motor vehicles
Part No.: SCM-1-001-52
The Rosho camera monitor system RS 70-2 consists of a 7″ monitor 703QHD, a camera RK 1405M and a 20m camera cable. The robust housing is ideal for use in trucks, HGVs and motor vehicles in outdoor applications.
The 7″ TFT-LCD monitor 703QHD is a display for showing the images from up to four cameras or video sources, which can be displayed or advanced either automatically or manually in a single image. The monitor's robust, very flat and elegant design housing fits seamlessly into the existing vehicle and is therefore ideal for use in HGVs, agricultural or construction vehicles. The monitor has a key lock to protect the device settings against unauthorised changes. Due to its robust construction, the camera meets the very high IP69k protection class for water and dust resistance and can also withstand cleaning with a high-pressure cleaner. The set enables the driver to have a complete view of the areas behind, in front of and to the side of the vehicle. This also covers the "blind spot" of the vehicle.
To ensure the quality of our products, the RS 70-2 camera monitor system also undergoes a comprehensive and strict quality assessment process with very precise unit testing at every essential stage of production.
MONITOR LCM 703QHD
Protection class: IP 64
Camera connections: 4
7″ colour TFT LCD
Resolution (WxH) 800 x 480
Video signal PAL / NTSC
Contrast 450:1
Camera/video inputs 4x
Operating temperature range -20°C ~ +75 °C
Power supply 12/24 VDC
Dimensions 186mm x 130mm x 25mm (without holder)
Weight 480g
Camera RK 14XX series
.
Angle of view: 78° / 130° / 150°
Protection class: IP 69K
Connection cable: MiniDIN
1/3″ CCD video format PAL
700 TV lines
0.01 lux (0 lux with IR LED on)
IP69K
Heating
Operating temperature range -30°C ~ 70 °C
Power supply 12/24 VDC
Dimensions 76mm x 64mm x 42mm (without sun visor)
Certificates
E-mark
ECE 118
ES-95400-10 (analogue DIN EN ISO
9227)
IEC 60068-1:2013 / DIN EN
60068-1
VDE 0468-1:2015-09
IEC 60068-2-11:1981
DIN EN 60068-2-11:2000-02
MBN LV 124-2:2013-08