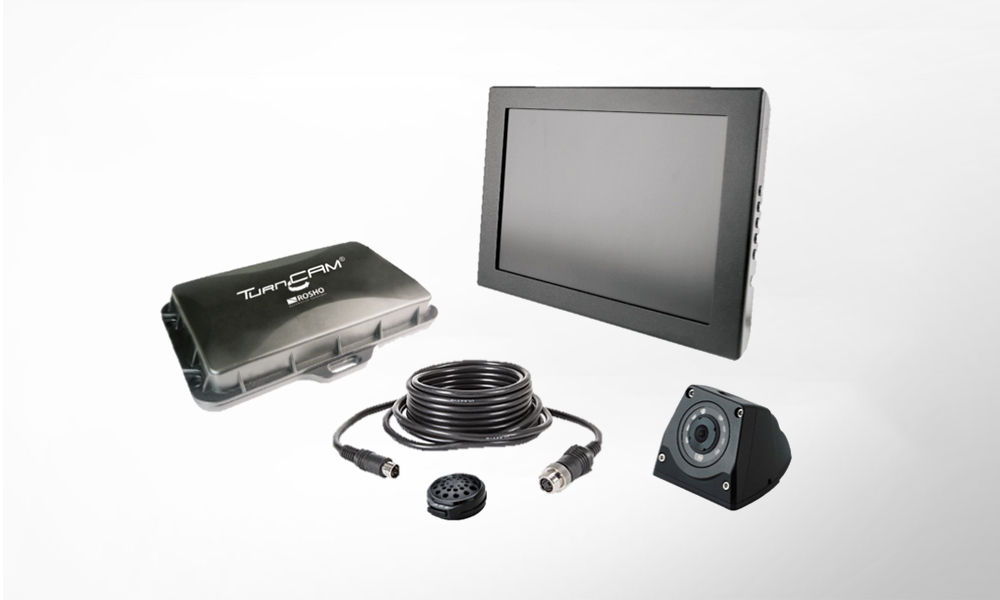 TurnCAM® turn assistance system with 10″ bus monitor
Article no.: SCM-1-001-83

All TurnCAM® systems have an ABE from the Federal Motor Transport Authority and fully comply with the BMVI guidelines. Retrofit the turn assistant now and take advantage of the funding! We will support you.
Description
Technical data
Downloads
Description
The ROSHO TurnCAM® turn assistant with side camera and intelligent image processing eliminates the blind spot and thus protects cyclists and pedestrians!
The system consists of the following components:
TurnCAM® box, cable set, camera SK 1708, monitor LCM 703T.
The special wide-angle camera with 180° viewing angle registers every moving object that turns in the danger zone. It is activated automatically. The activation and deactivation of the additional acoustic warning function is done, among others, by the blinker or other GPIO signals.
Optionally, it is also possible to extend the system to the speed signal via the speedometer signal or GPS antenna. The system can also be expanded with an analog steering angle sensor.
Technical data
Downloads
Request the product directly: