Municipal
Camera systems for municipal emergency and special vehicles
The sector of special and emergency vehicles is characterised by the highest requirements for the most diverse types of vehicles – each of which is designed for very specific functions. Examples include refuse collection or winter service vehicles, police cars, ambulances and fire engines. The common denominator: high climatic stress, lack of overview, time pressure and high public interest. Reliable help is provided by the versatile ROSHO camera systems, to keep out an eye for situations from various perspectives – to be observed via our professional monitors.
Turn assistant and ADAS systems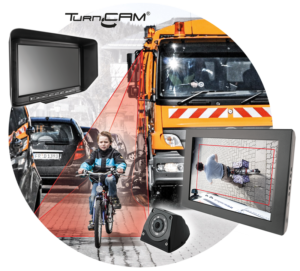 SIMPLY SWITCH OFF THE BLIND SPOT:
ROSHO turncam® turn assistant
The ROSHO TurnCAM® turn assistance system is made up of just a few reliable components: A specially developed wide-angle camera is mounted on the right side of the vehicle and captures the close-up area to the side of the vehicle. It registers every moving object that is in the danger zone.
Despite the mandatory mirrors, many zones around the vehicle are only incompletely covered. For example, when turning right, several traffic situations must be detected at the same time (vehicle traffic from the front and the side, crossing pedestrians and also cyclists who sidle past the vehicle from behind). Since the side mirror alone is often not sufficient, the turn assistant TurnCAM® with its innovative AI technology and special side cameras helps to carry out the turn safely.
SPECIALLY DEVELOPED SYSTEM SOLUTIONS FOR MUNICIPAL VEHICLES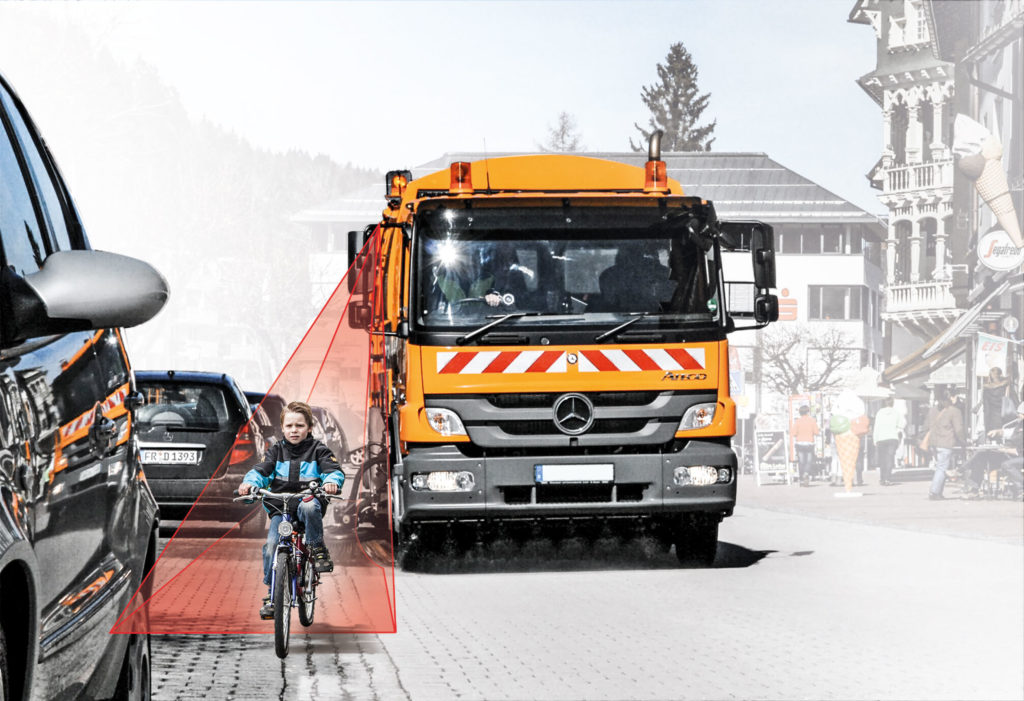 Significantly improves traffic safety on the road and on construction sites through additional safety when turning
Monitoring of the right-hand side close-range area through specially developed wide-angle camera
Detects critical traffic situations independently through intelligent image evaluation
When a person or object is detected, a visual and optionally additional acoustic warning signal is given to the driver
The system is specially adapted to the requirements in HGVs.
Example of monitor installation location: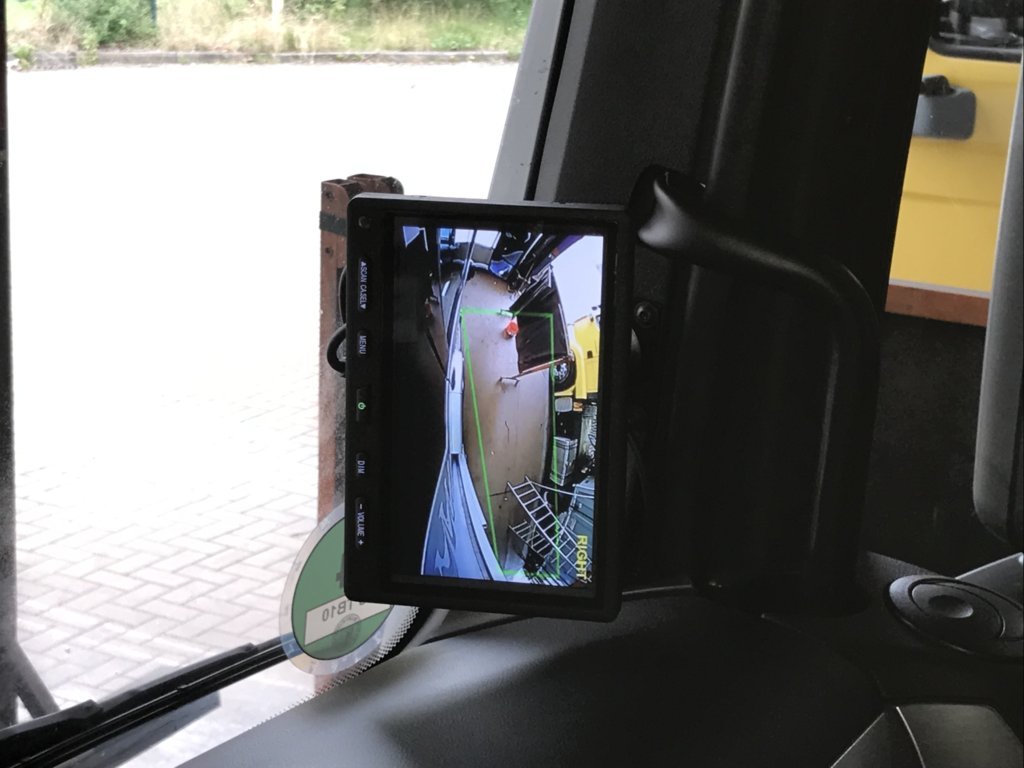 The TurnCAM® Detection Box has a detection function for the side camera and intelligent image processing. It controls the vehicle display, which displays a visual warning in the event of danger and can also be used as a reversing monitor. The on/off activation of the additional acoustic warning function (by means of a small loudspeaker) is carried out by the indicator signal or other GPIO signals.
Example installation location camera: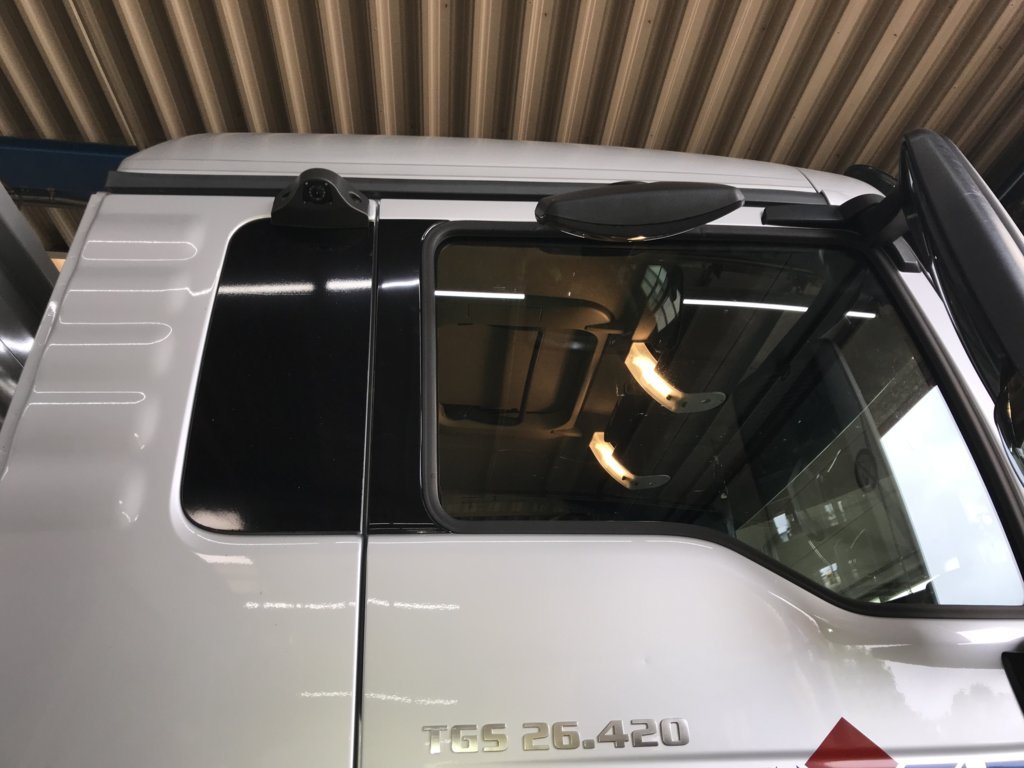 Optionally, an extension for an activation via GPS signal as well as the connection to an analogue steering angle sensor is available. This means that the acoustic signal does not sound every time a bicycle passes, but only in really critical situations. This optimisation of the warning function ensures that the driver is only warned acoustically in really critical cases.
The TurnCAM® fulfils all technical requirements that the German Federal Ministry of Transport has formulated for turn-off assistance systems.
Example of a TurnCAM® turn assistant diagram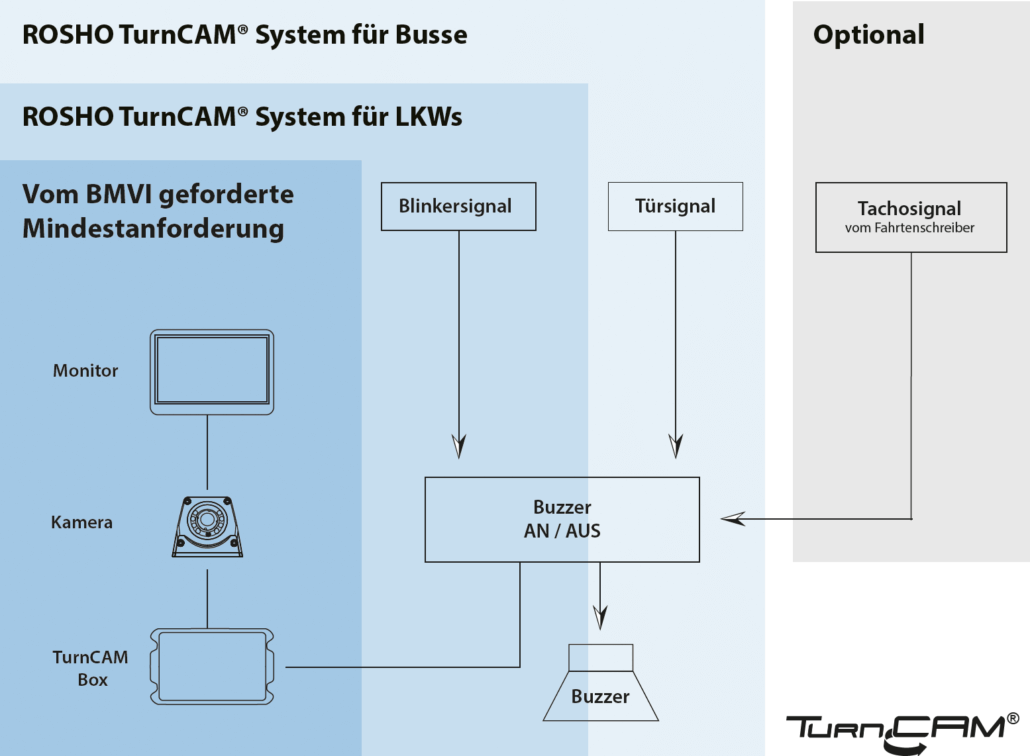 DEFUSING CRITICAL SITUATIONS ELECTRONICALLY: ROSHO ADAS FRONT WARN SYSTEM
The ADAS-D21FWS advanced driver assistance system, based on leading computer vision technology, uses cameras to perceive the road environment, including vehicles, lanes, pedestrians, traffic signs, etc. It's able to reduce collision accidents by providing early warnings when it detects potential collision hazards while driving. The EWS system supports FCW, LDW, HMW, PCW, etc. The ADAS-D21FWS system can be used in almost all types of vehicles.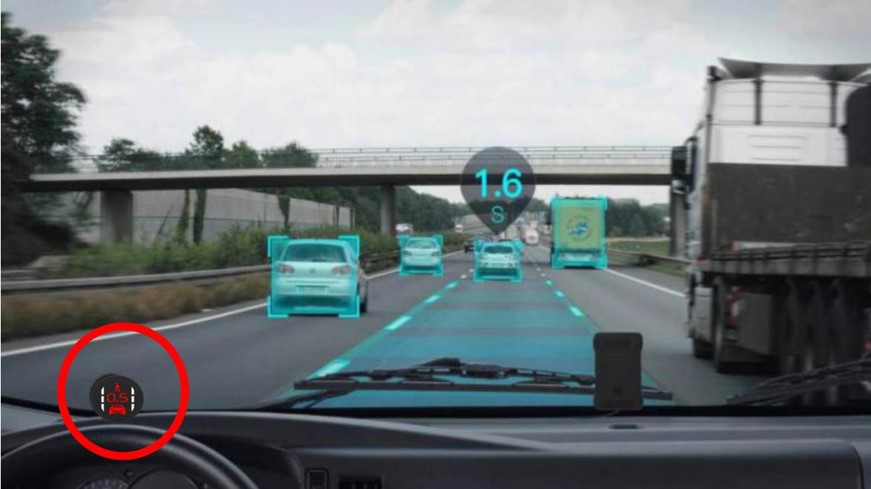 The system can monitor the vehicles ahead in real time, and when the system detects a possible collision, it issues warnings to remind the driver to slow down or brake.
If the vehicle does not maintain the distance and is too close to the vehicles ahead, the system issues warnings reminding the driver to maintain a safe distance.
The system can monitor the side lanes, and as soon as the vehicle leaves the current lane without using the indicator, it issues a warning.
If there is an imminent risk of collision with pedestrians, a warning is also given to remind the driver to slow down or brake.
Camera monitor systems
MORE VISIBILITY, MORE SAFETY!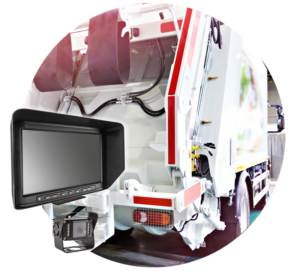 To ensure that your sweepers, refuse collection vehicles and other special vehicles are safe on all roads, our tried and tested camera monitor systems provide the necessary visibility to each side of the vehicle and for each manoeuvring area. In addition, there are many accessories, from A to Z, for adapter to accessories – plus, of course, HD monitors in many sizes, high-resolution cameras with up to five megapixels, shock-resistant electronics, connectors for all types of vehicles and much more. On request, we will put together the right system individually – entirely according to your requirements.
All systems are E-certified and ROHS compliant. The components used are developed for robust operation in commercial vehicles. The simple plug & play concept makes the systems easy and quick to install on the vehicle.
More visibility with camera monitor systems from ROSHO:
Front View
Dual front vision system for unobstructed view at blind exits and entrances for use with different front attachments.
Reversing area
Facilitates manoeuvring with large machines as well as dump trucks or large trailers.
Complete working area – ROSHO H-System
Complete all-round view around the vehicle: four exterior cameras are displayed in an H-shape on the driver's monitor – this intuitive arrangement makes manoeuvring easier.
Your advantage through ROSHO camera monitor systems:
Analogue and digital technology approaches
Extensive selection of extremely high-resolution monitor and camera variants
Compliance with the highest safety standards and IP protection classes
Expandable with vehicle-specific adapters and a wide variety of connection and spiral cable sets
Modular system components
Certified for use in all commercial vehicles
We offer retrofit solutions for almost all applications, such as sweepers

Retrofit solutions for refuse collection vehicles

Retrofit solutions for fire brigade emergency vehicles

Retrofit solutions for bulldozers and Unimog

Your advantage with ROSHO camera monitor systems:
Prevention of costly damage to the vehicle and the associated expensive downtimes
Elimination of the "blind spot" through comprehensive vicinity detection
Prevention of collisions with people and thus protecting health
Safer and easier manoeuvring
Reduction of stress due to better all-round visibility
Possible reduction of insurance premiums (depending on the respective insurer)
Installation of the systems directly at the vehicle manufacturer's or bodyshop, as ROSHO is a long-standing OEM partner of many leading manufacturers.
Fleet management
ONE PLATFORM, COMPLETE FUNCTIONALITY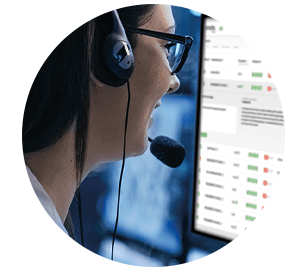 Achieve full transparency and control over your vehicle fleet. It is important to ensure optimal planning and operation of the vehicle fleet and to keep an eye on costs. With the BIS fleet management system, ROSHO provides you with a powerful and intelligent tool: Securely networked and fully digitalised, you are always in the know about what is going on in and with your vehicles – and where they are. As logical addition to ROSHO's camera monitor systems, you can thus raise safety around the vehicle to a new level.
Fleet management enables operational and technical irregularities to be detected quickly. Status information is transmitted via push e-mail or text message to the operations control centre or to selected responsible individuals.
Depending on the application, we offer various additional technical solutions that can also be integrated into the fleet management, such as for example status information from the FMS CANBUS. In addition, it is possible for alarm messages to be triggered by the driver via buttons in the vehicles.
The future of road traffic is digital and data-driven – with ROSHO Automotive Solutions you will definitely not miss the boat!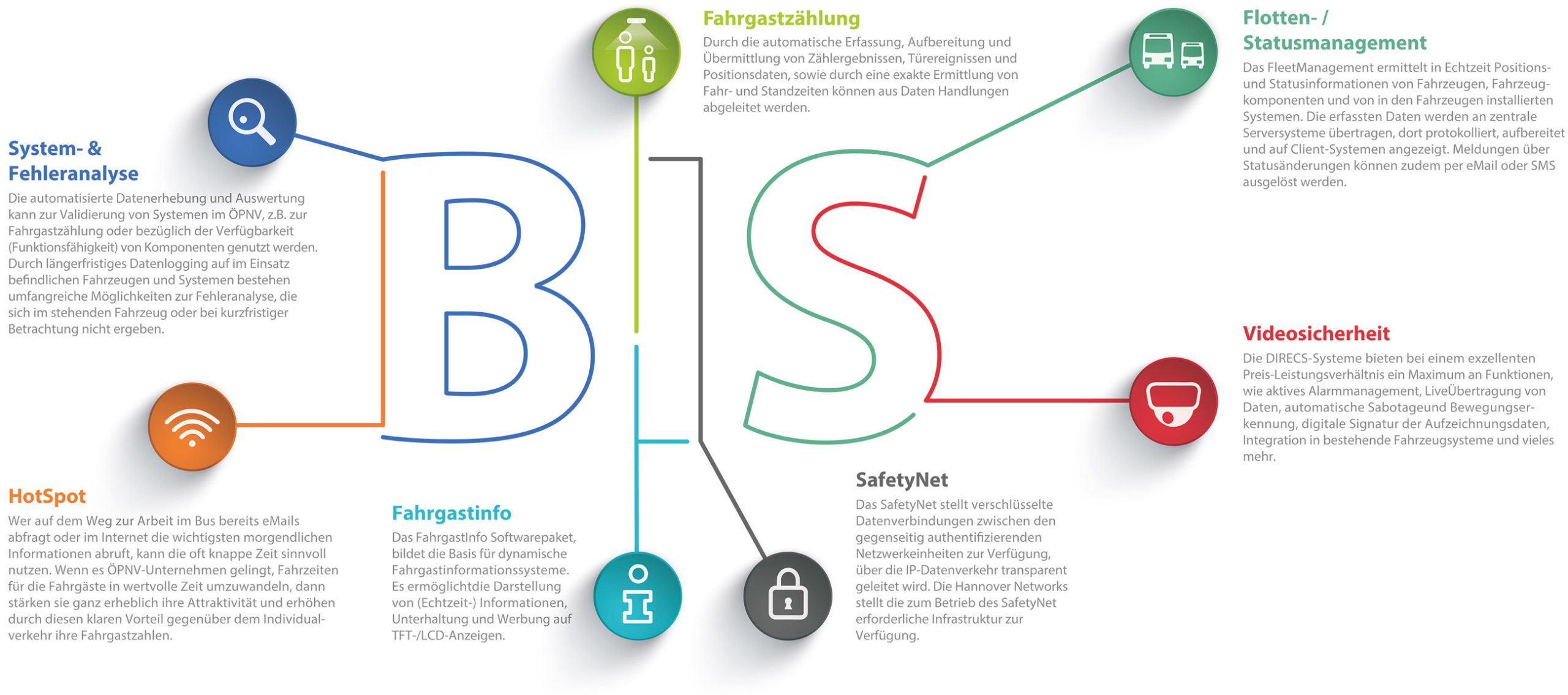 Your head start with ROSHO fleet management:
Vehicle position (vehicle position is determined by GPS and logical positioning and transmitted to the operations control centre in real time).
Vehicle status (vehicle status data is collected in the operations control centre via the CAN-BUS and other sources; deviations are detected and corrected at an early stage)
Alarming (triggering of a silent alarm by the driver and connection to video cameras in the vehicle possible (bandwidth-dependent))
Device status (information for monitoring and managing other components present in the vehicle based on the "status management" function)
Your advantage with ROSHO fleet management:
Reduction of hardware requirements by using all existing resources in the vehicle (components and data).
Reduction of energy and IT costs by using our cloud platform
Efficient planning of maintenance work on the vehicle (the technical fleet management monitors the vehicle technology as well as peripheral devices in the vehicle and can provide information for maintenance)
Flexible and modular expandable (the modular system structure enables functional expansions at any time, which can be implemented easily, quickly and inexpensively)
Open interface architecture (provision of jointly usable resources e.g. GPS information, FMS CAN bus data)
Cables & Accessories
ALWAYS THE RIGHT CONNECTION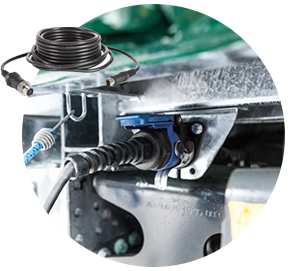 As accessories to our automotive products, we offer special connection cables and connecting leads. These include spiral cable solutions and vehicle-specific adapters as well as brackets and special connectors. As with all other products from our company, our accessories are of original equipment quality. Through our permanent product monitoring and quality control, we ensure that all components always meet the highest customer demands – and are characterised by extreme robustness and durability.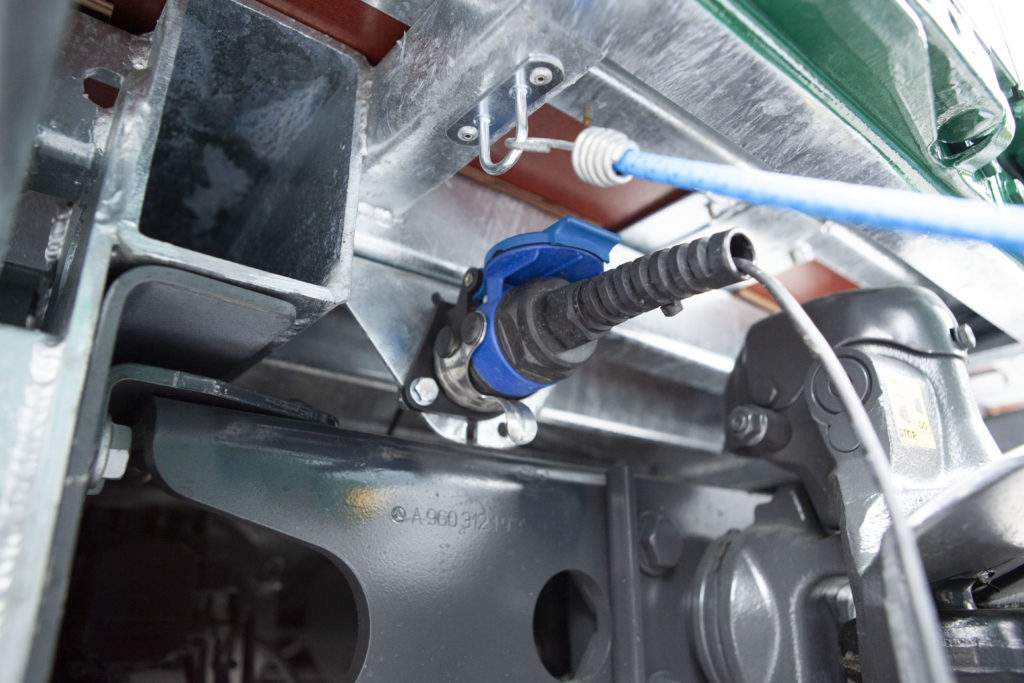 On request, our accessories are precisely tailored to the needs and specifications of commercial vehicles and mobile machinery.
Any more questions?
Our experts for your particular industry are looking forward to your call or e-mail.
Municipal vehicles
Carsten Pruß
Phone +49 5723 94 17 34
Mobile +49 173 79 973
carsten.pruss@rosho.de
Viktor Brozmann
Phone +49 5723 94 17 12
Fax. +49 5723 94 17 50
viktor.brozmann@rosho.de
Keeping an overall view with camera systems from ROSHO
We have various camera systems available for your transport and logistics tasks, which have already proven themselves many times in road traffic as well as when manoeuvring and loading. They offer viewing angles of up to 145°, camera inputs as required, robust HD monitors and suitably dimensioned cables for every type of vehicle. To ensure your drivers maintain an overall view in every situation – also with trailer detection box as a requirement. Whether on the road or in the logistics centre, when unloading goods or quickly coupling and uncoupling: ROSHO Automotive Solutions provides a complete overview!
More visibility with video systems from ROSHO:
Right side of the vehicle – a side camera eliminates the blind spot on the right side of the vehicle.
Reversing area – our solutions make manoeuvring with large trailers easier.
Entire working area – with an H-system you create complete all-round visibility around the vehicle.
Proactively protect man and machine
With camera technology from ROSHO you avoid accidents and make work easier for your employees.
Manoeuvring large vehicles safely
Even experienced drivers don't have their eyes everywhere – unless our camera systems are driving along.
Opt for durable, robust technology
Our components are "Engineered in Germany" and are subject to strict quality controls.
Benefit from our experience
As an experienced system provider, we individually configure the right solution for you.