Buses & Railways
Tailor-made solutions for public transport
Safe and
comfortable

underway in passenger transport
Safety has first priority – this is especially true when you are transporting people. We at ROSHO Automotive Solutions want to contribute to this with well thought-out solutions and reliable systems – from video surveillance and improved hygiene in the vehicle to an intelligent turn assistant. So you have a full overview of the fleet, passengers and incidents at all times, we integrate your vehicle into a smart fleet management system – with live data on vehicle position, passenger counting and many other features.
Turn assistant and ADAS systems
SIMPLY SWITCH OFF THE BLIND SPOT:
The rosho turncam® turn assistant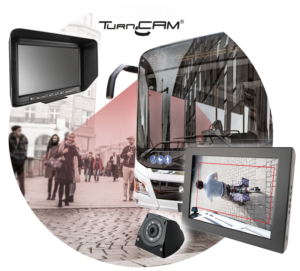 The ROSHO TurnCAM® turn assistance system for public service and tour buses is made up of just a few reliable components: A specially developed wide-angle camera is mounted on the right side of the vehicle and captures the close-up area to the side of the vehicle. It registers every moving object that is in the danger zone.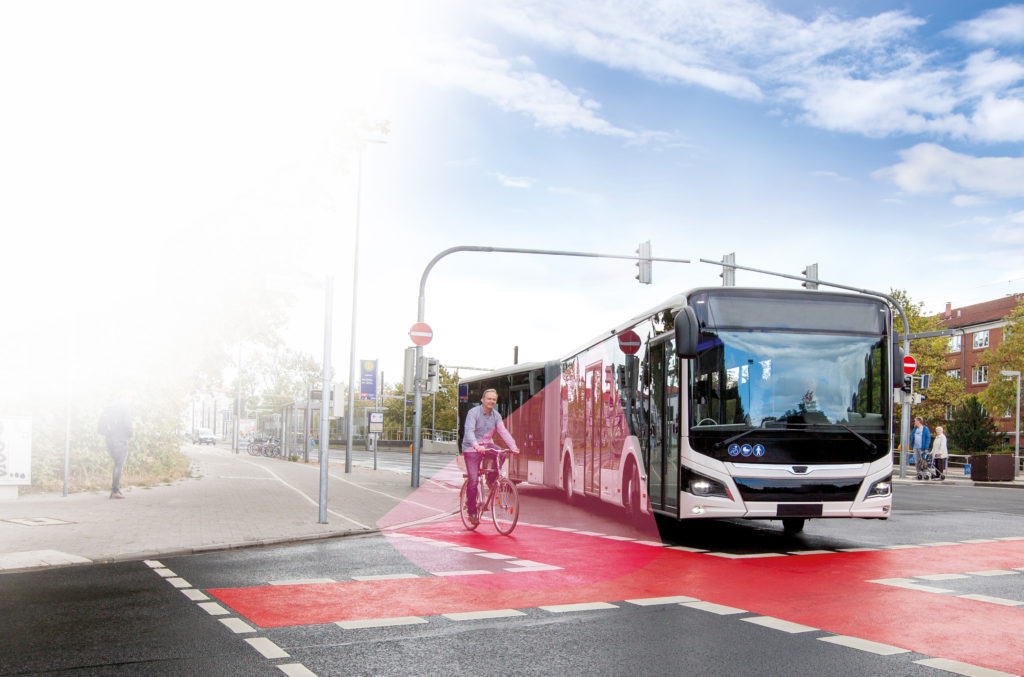 Your advantage with the TurnCAM® turn assistant:
Significant improvement in road safety due to additional safety when turning.
Monitoring of the right-hand side close-range area by means of a specially developed wide-angle camera
Intelligent image analysis automatically detects critical traffic situations
When a person or object is detected, a visual and optionally additional acoustic warning signal is given to the driver
The system is specially designed to meet the requirements of buses and coaches.
Example of monitor installation location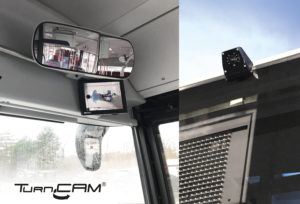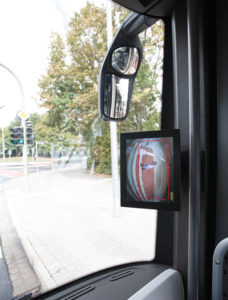 The TurnCAM® Detection Box has a detection function for the side camera and intelligent image processing. It controls the vehicle display, which displays a visual warning in the event of danger and can also be used as a reversing monitor. The on/off activation of the additional acoustic warning function (by means of a small loudspeaker) is carried out by the indicator signal or other GPIO signals.
Example of monitor installation location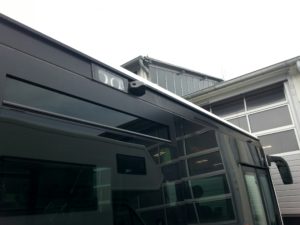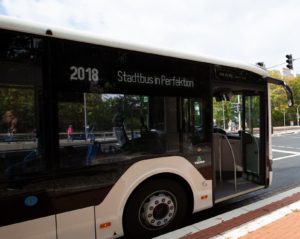 Optionally, an extension for an activation via GPS signal as well as the connection to an analogue steering angle sensor is available. This means that the acoustic signal does not sound every time a bicycle passes, but only in really critical situations. This optimisation of the warning function ensures that the driver is only warned acoustically in really critical cases.
The TurnCAM® fulfils all technical requirements that the German Federal Ministry of Transport has formulated for turn-off assistance systems.
Example of a TurnCAM® turn assistant diagram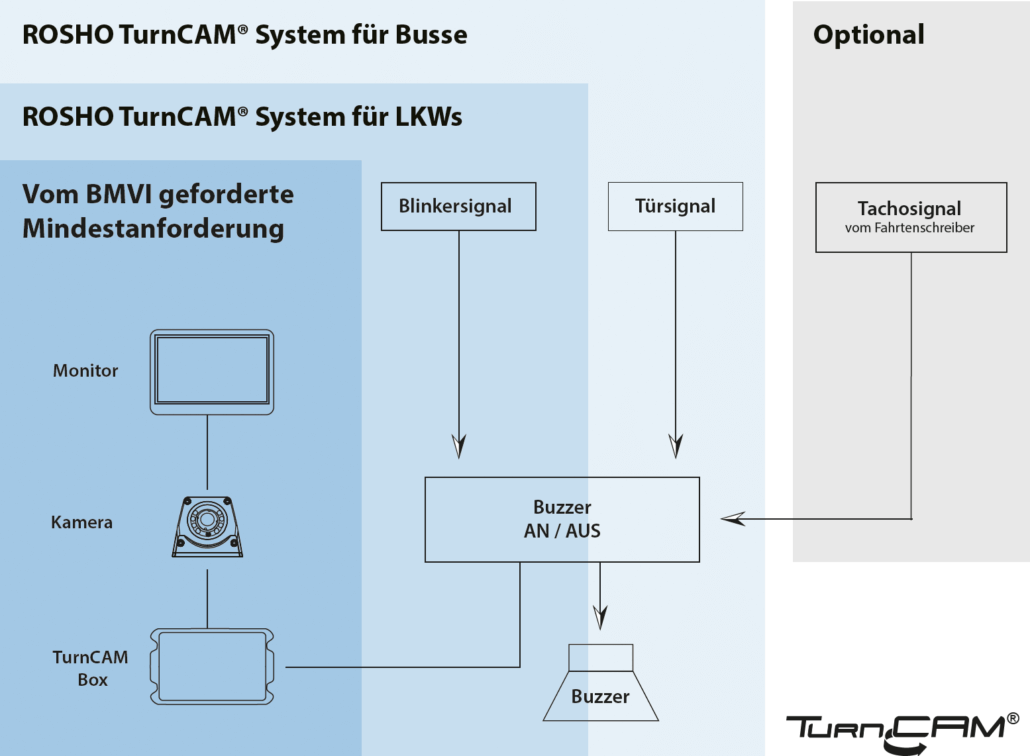 DEFUSING CRITICAL SITUATIONS ELECTRONICALLY: ROSHO ADAS FRONT WARN SYSTEM
The ADAS-D21FWS advanced driver assistance system, based on leading computer vision technology, uses cameras to perceive the road environment, including vehicles, lanes, pedestrians, traffic signs, etc. It's able to reduce collision accidents by providing early warnings when it detects potential collision hazards while driving. The EWS system supports FCW, LDW, HMW, PCW, etc. The ADAS-D21FWS system can be used in almost all types of vehicles.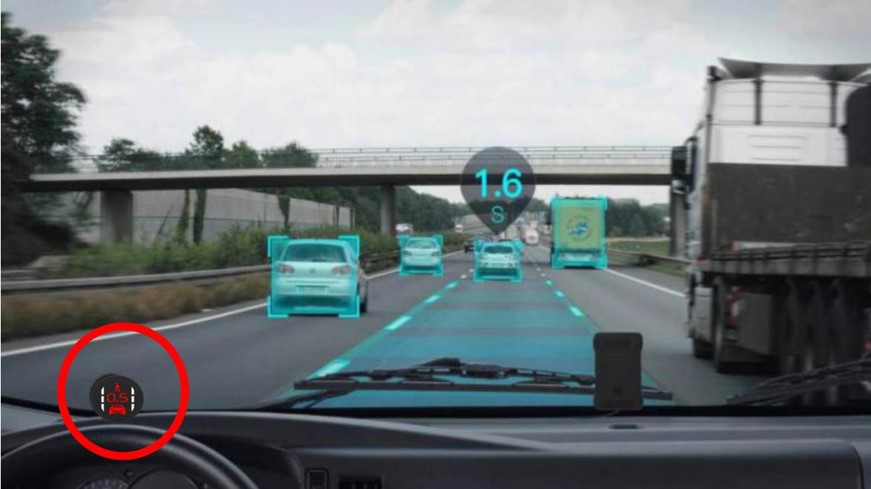 The system can monitor the vehicles ahead in real time, and when the system detects a possible collision, it issues warnings to remind the driver to slow down or brake.
If the vehicle does not maintain the distance and is too close to the vehicles ahead, the system issues warnings reminding the driver to maintain a safe distance.
The system can monitor the side lanes, and as soon as the vehicle leaves the current lane without using the indicator, it issues a warning.
If there is an imminent risk of collision with pedestrians, a warning is also given to remind the driver to slow down or brake.
Video surveillance
MONITORING; RECORDING; DATA PROTECTION –
A GOOD FEELING – WITH SECURITY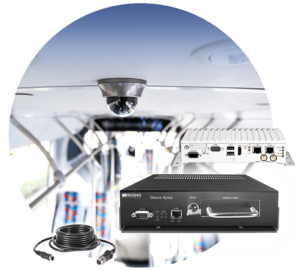 DIRECS products offer maximum flexibility: the systems work with analogue or digital cameras and can therefore be used as analogue, digital and hybrid recorders. All systems have been specially designed for use in extreme conditions and have the necessary certifications or prerequisites for use in the public transport, logistics, rescue and valuable goods transport sectors. The simple installation of the systems and excellent support from ROSHO also optimises the equipment of larger vehicle fleets. Integration into existing vehicle systems is generally possible via numerous digital inputs and outputs.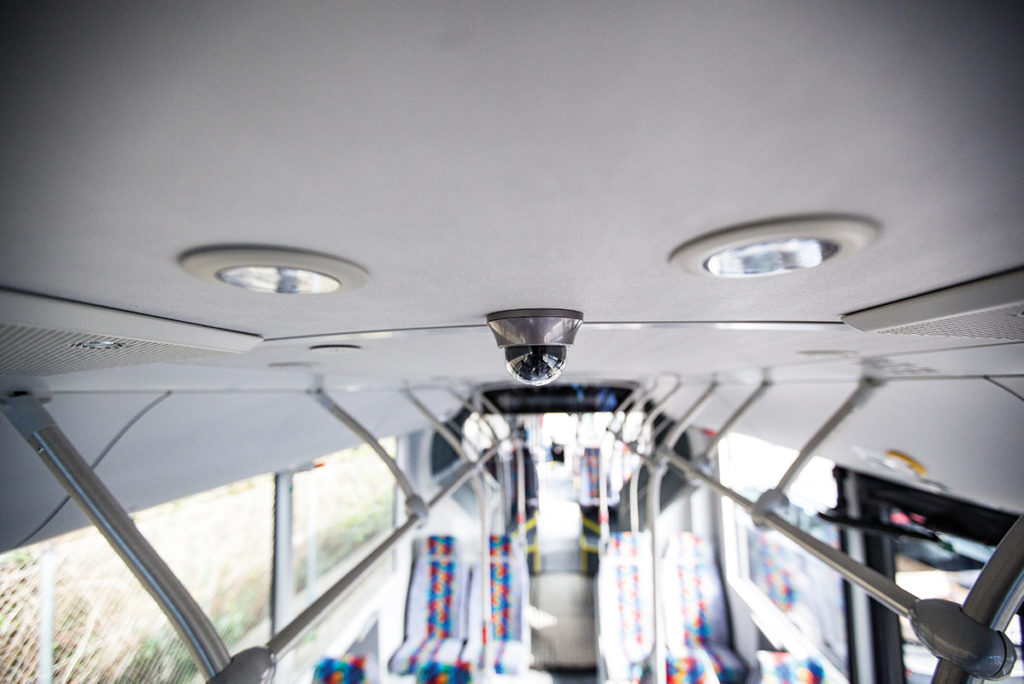 Your advantage with ROSHO video security:
High-quality recording of analogue and digital (IP) camera signals in real time.
Black box function: recording of additional data (audio, event data, IBIS …)
Compliant with IBIS VDV300 and IBIS-IP according to VDV301
Expandable to include passenger counting systems and BIS fleet management
Vandalism-proof indoor and outdoor cameras
Resolution up to three megapixels with day and night function
Various versions
Certified for use in buses and trains
Your advantage with ROSHO video security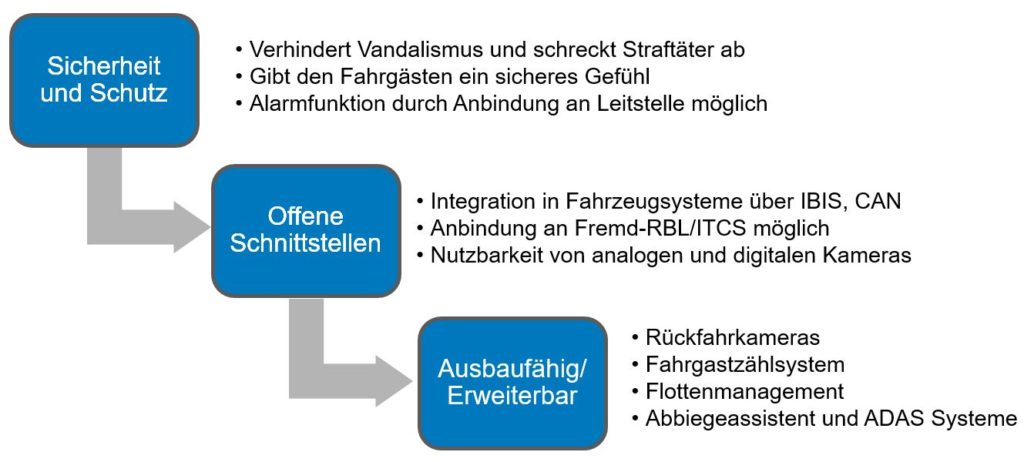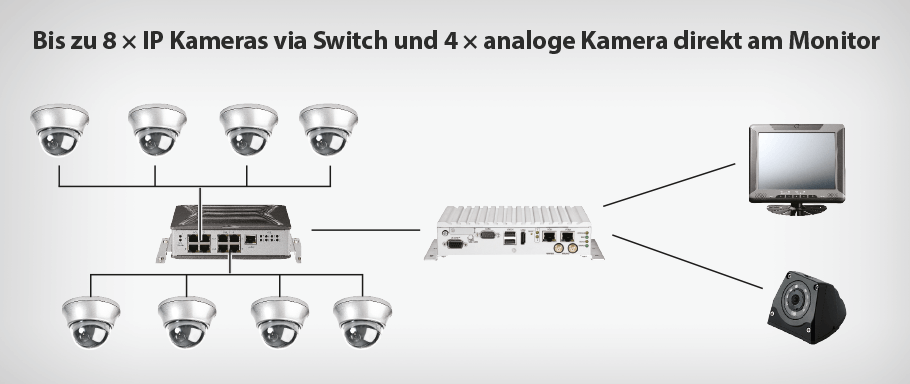 Passenger Counting
Every passenger counts!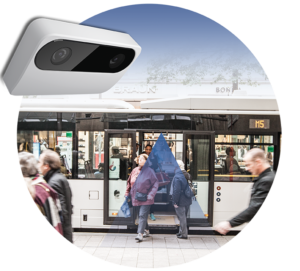 If you need a passenger counting system for
revenue sharing
the statistical revenue control
line revenue accounting
or the monitoring of transport performance
then it is obvious
You are always right with ROSHO!
We will be happy to advise you and together we will find the optimum solution for your requirements!
Hardware on the bus
Intelligent 3D sensors with stereoscopic camera for precise counting
Interfaces: Ethernet, alternatively RS 485 possible
Supported standards: VDV 300, VDV 301
Certifications: CE, EN-50155, E-certification
Connection to media controller including GPS for exact stop assignment
Easy integration into existing vehicle systems
Easy installation
Very high availability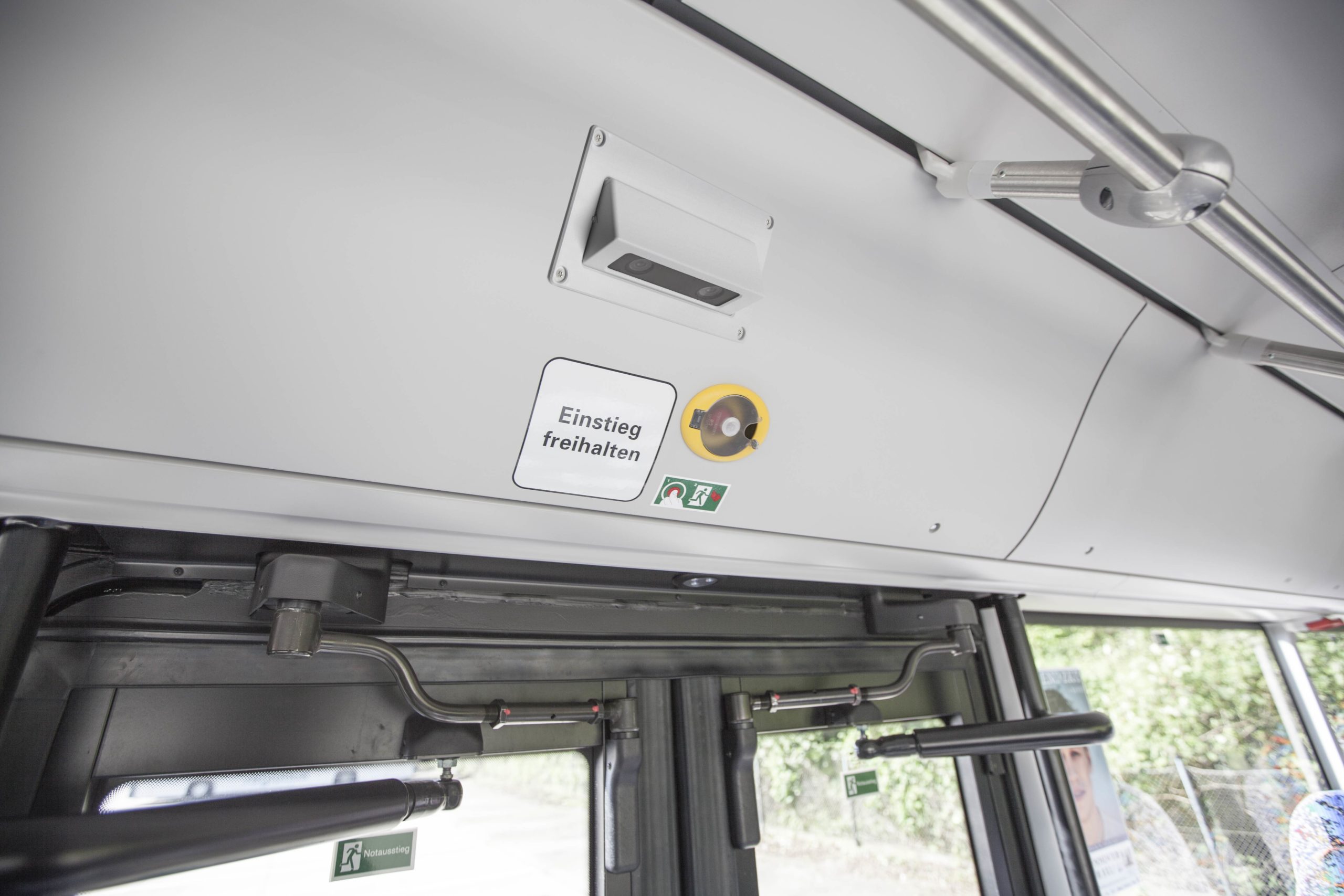 Data collection and processing
Passenger numbers by boarding/ alighting and counting categories (if available)
Recording of passenger movements on the grid or in vehicles
Simple evaluations based on the raw data
Automatic transmission of counting results and status data
Data preparation and provision for download or automatic dispatch by e-mail
Standard interfaces and formats for (automatic) data transfer to evaluation software (CSV, XML, VDV 457-2)
Summary
Fleet management
ONE PLATFORM, COMPLETE FUNCTIONALITY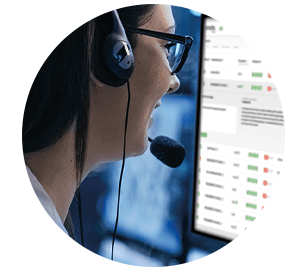 Achieve full transparency and control over your vehicle fleet. It is important to ensure optimal planning and operation of the vehicle fleet and to keep an eye on costs. With the BIS fleet management system, ROSHO provides you with a powerful and intelligent tool: Securely networked and fully digitalised, you are always in the know about what is going on in and with your vehicles – and where they are. As logical addition to ROSHO's camera monitor systems, you can thus raise safety around the vehicle to a new level.
Fleet management enables operational and technical irregularities to be detected quickly. Status information is transmitted via push e-mail or text message to the operations control centre or to selected responsible individuals.
Depending on the application, we offer various additional technical solutions that can also be integrated into the fleet management, such as for example status information from the FMS CANBUS. In addition, it is possible for alarm messages to be triggered by the driver via buttons in the vehicles.
The future of road traffic is digital and data-driven – with ROSHO Automotive Solutions you will definitely not miss the boat!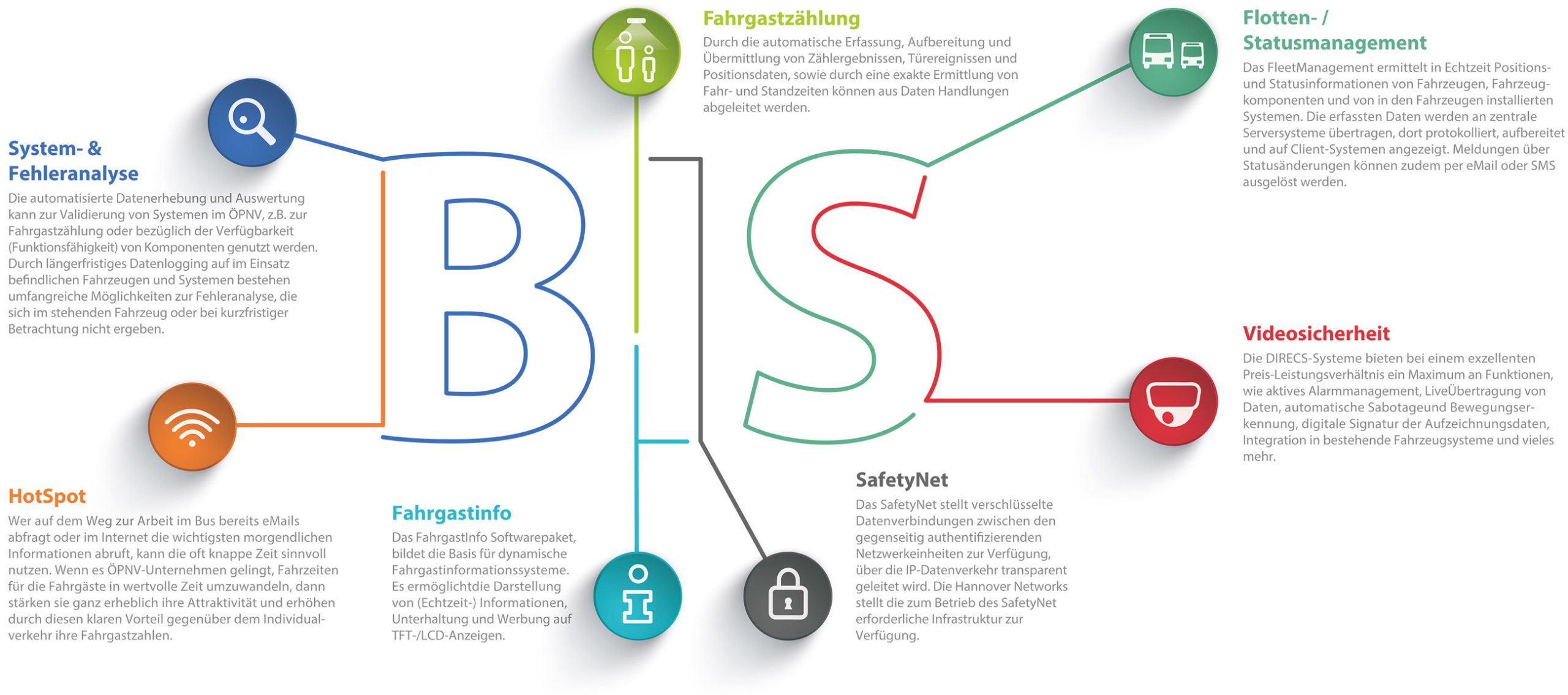 Your head start with ROSHO fleet management:
Vehicle position (vehicle position is determined by GPS and logical positioning and transmitted to the operations control centre in real time).
Vehicle status (vehicle status data is collected in the operations control centre via the CAN-BUS and other sources; deviations are detected and corrected at an early stage)
Alarming (triggering of a silent alarm by the driver and connection to video cameras in the vehicle possible (bandwidth-dependent))
Device status (information for monitoring and managing other components present in the vehicle based on the "status management" function)
Your advantage with ROSHO fleet management:
Reduction of hardware requirements by using all existing resources in the vehicle (components and data).
Reduction of energy and IT costs by using our cloud platform
Efficient planning of maintenance work on the vehicle (the technical fleet management monitors the vehicle technology as well as peripheral devices in the vehicle and can provide information for maintenance)
Flexible and modular expandable (the modular system structure enables functional expansions at any time, which can be implemented easily, quickly and inexpensively)
Open interface architecture (provision of jointly usable resources e.g. GPS information, FMS CAN bus data)
Audio
Crystal clear sound experience for your passengers!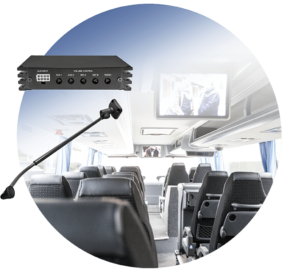 Always the best solution for individual applications: with the ROSHO audio range you experience information and entertainment at it's best! Our audio systems work with the latest technology, are user-friendly and have been specially developed for the requirements in buses. Our DMV2 or DMV4 MIC digital amplifiers combine optimum user-friendliness with the greatest possible comfort for the use of voice announcements in public service buses or as an optimum supplement to audio systems in coaches.
With ROSHO driver microphones, you can always make yourself heard. The new, innovative RFM 310 driver microphone is particularly user-friendly. This very robust gooseneck microphone is available either with a switch (RFM 310S) or without a switch (RFM 310). It has been specially developed as an outstanding alternative to the gooseneck microphones otherwise available on the market for professional use in public transport buses. Thus the driver can announce important information at any time with very high sound quality.
Experience information and entertainment from a single source – comfort for driver and passengers.
Multimedia
A PLUS ON THE BUS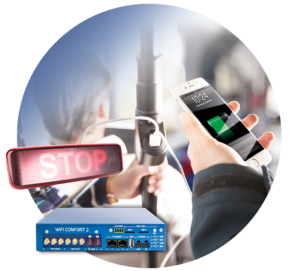 To meet the demands of today's passengers, buses and trains have more and more electronics on board. For the sake of safety, but also for entertainment purposes. At ROSHO you will find a comprehensive range of high-performance audio and video components certified for professional use. Whether music or feature film, driver announcement or advertising: we supply hardware components of the highest quality and guaranteed to be perfectly coordinated.
Wi-Fi hotspot: surfing and streaming on the move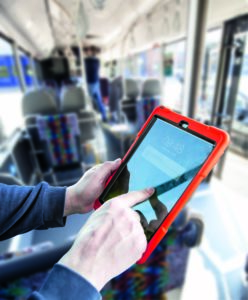 This turns travel time into active time and makes public transport really attractive: if you check your e-mails on the bus on the way to work or check the most important morning news on the internet, you can make good use of your limited time. If public transport companies succeed in converting travel time into valuable time for passengers, they will considerably strengthen their attractiveness and increase their passenger numbers through this clear advantage over private transport.
Your advantage with the ROSHO HotSpot:
Additional benefits and service for passengers
Increased attractiveness
Strengthening passenger loyalty
We provide your fleet with state-of-the-art Wi-Fi routers to ensure convenient internet access on buses and trains. With 12V and 24V power supplies and integrated modems, we ensure convenient surfing and streaming on the move.
Empty batteries are a thing of the past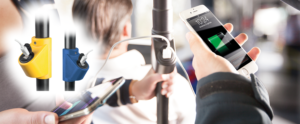 The ever-growing use of smartphones and tablets means that the need for charging options is becoming ever greater – especially being on the road in everyday life. ROSHO offers a wide range of USB chargers for installation on grab rails, vehicle side walls, between the rows of seats, in the ceiling duct or simply at the driver's workstation. They allow both the driver and passengers to easily charge their devices while driving and can be connected via almost any USB cable, ensuring permanent availability of all mobile devices. The 5V power supply is technically safer than mains power, making charging simple and straightforward. On request, we offer our fixtures in any RAL colour to match your corporate identity.
Clear signals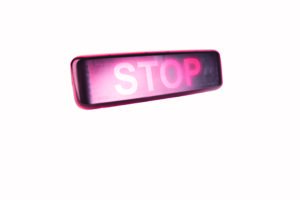 Is your vehicle stopping at the next stop? Then let your passengers easily know this with our LED signal displays.
In this way, you succeed in communicating with your passengers even without words.
Hygiene in the vehicle
VEHICLE DISINFECTION AND INDOOR AIR HYGIENE
BY MEANS OF BIPOLAR IONISATION

Actively reduce the risk of infection from airborne viruses – virus protection in the vehicle through bipolar ionisation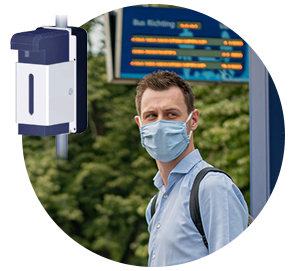 Since the corona virus has permanently changed everyday life in public spaces, the topic of air hygiene has come into focus. The spread of viruses through aerosols, but also the contamination of indoor air by other viruses, germs and spores is an acute health hazard that companies want to actively counteract. In addition to the usual measures – masks and keeping distance – technical solutions are also coming into focus. ROSHO Automotive Solutions' answer to the demand for virus protection in buses, coaches and trams is: bipolar ionisation.
Our easy to integrate units for bipolar ionisation perfectly complement your safety concept in buses, trains and other means of transport. In addition to the reduction of viruses, bacteria and germs, the noticeable improvement in air quality is another plus point. The system works without changing filters and produces no toxic waste, so it is very reliable and low-maintenance.

The principle is modelled after nature: Here, the air is noticeably clearer and cleaner after a "cleansing thunderstorm". Electrically charged atoms (ions) contribute to this. Bipolar ionisation makes use of this principle. The room's air is ionised by means of compact, versatile devices. This can affect viruses such as Corona, SARS and influenza viruses in two ways: On the one hand, the ions dock onto certain receptors, which can reduce the risk of infection. On the other hand, the ions attach themselves to the viral structure and cause the viruses to clump together. This demonstrably weakens the viruses.
A pleasant side effect: Not only viruses, bacteria, moulds and other germs, but also undesirable odours are reduced. ROSHO Automotive Solutions offers various ready-to-use products – depending on your individual needs.
MORE HYGIENE FOR A SAFE FEELING: CONTACT-FREE HAND DISINFECTION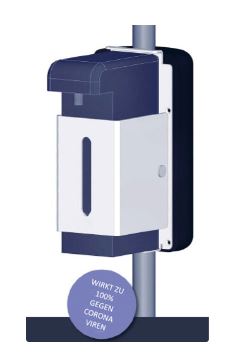 ROSHO Automotive Solutions supplies uncomplicated contact-free disinfectant dispensers for your vehicles. You can obtain disinfectants for refilling directly from us. Benefit from short delivery times!

This is how your staff and passengers can travel safely by bus and train: battery-operated sensor dispensers enable touch-free disinfection of hands with a highly effective disinfectants Integrated safely and in a space-saving manner, the compact device makes another important contribution to the hygiene concept for your passengers and for occupational safety.
SMART THERMAL CAMERA WITH WARNING FUNCTION WHEN A MASK IS MISSING.
ROSHO Automotive Solutions has developed a special thermal imaging camera that measures body temperature extremely quickly – with very high accuracy to make a significant contribution to curbing the corona crisis.
Safe and reliable
The ITC-20 smart thermal camera is specifically designed for human temperature detection. It is based on a self-developed AI chip, with the support of powerful computing power and facial recognition algorithms.
The system automatically detects elevated skin surface temperatures and can thus be used for rapid and preliminary fever screening anywhere. In addition, it independently detects whether people are wearing a mouth-nose protection. If they are not wearing it, a warning is given or they are asked to put on the mask.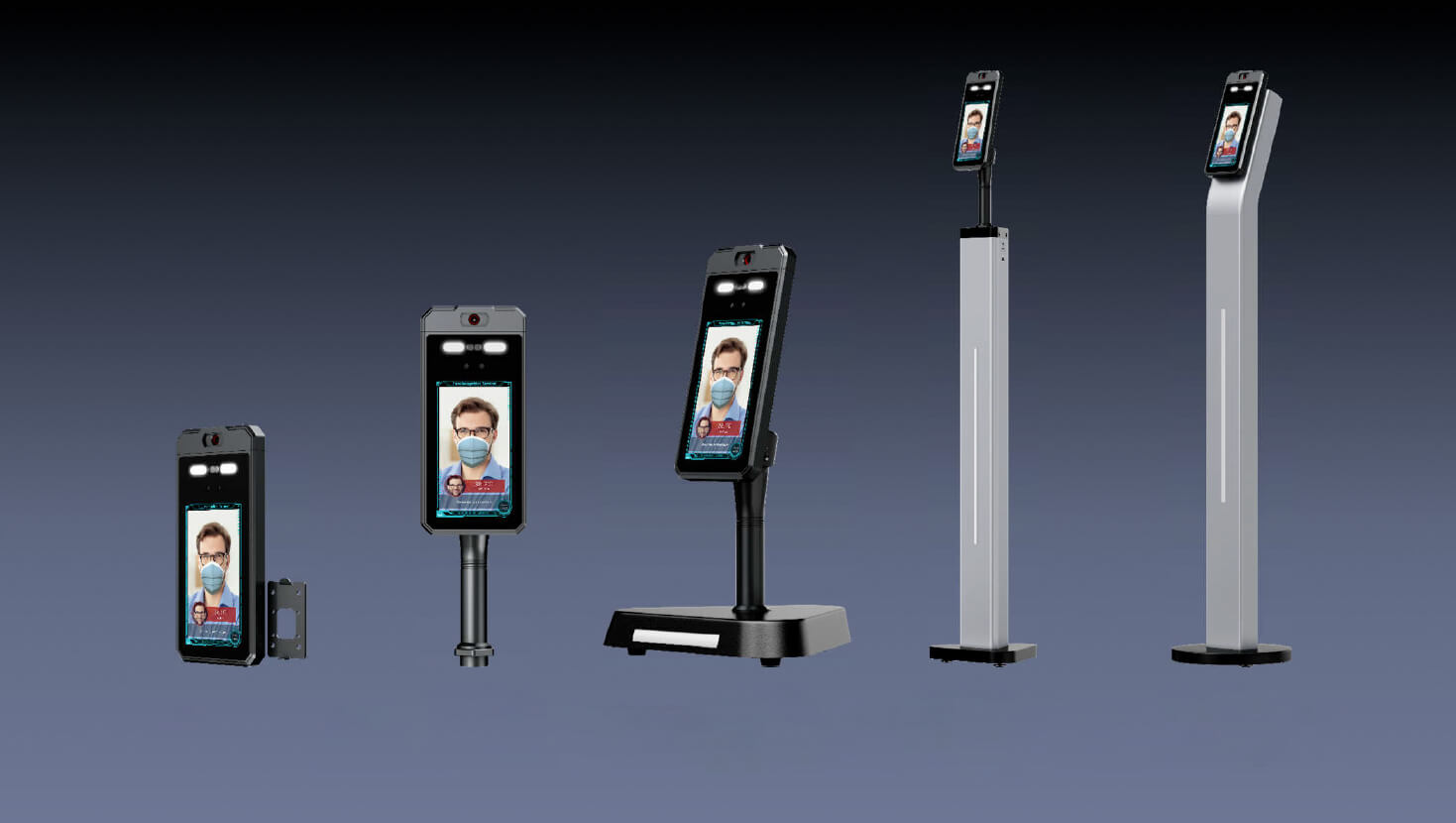 Cables & Accessories
ALWAYS THE RIGHT CONNECTION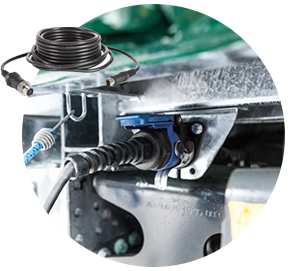 As accessories to our automotive products, we offer special connection cables and connecting leads. These include spiral cable solutions and vehicle-specific adapters as well as brackets and special connectors. As with all other products from our company, our accessories are of original equipment quality. Through our permanent product monitoring and quality control, we ensure that all components always meet the highest customer demands – and are characterised by extreme robustness and durability.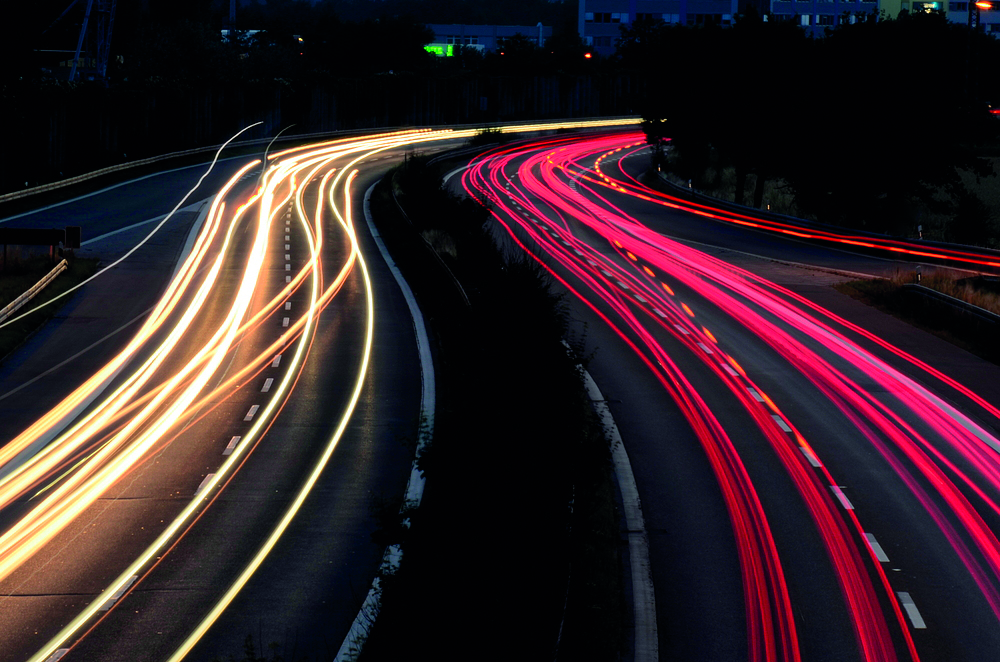 On request, our accessories are precisely tailored to the needs and specifications of commercial vehicles and mobile machinery.
Do you have any further questions?
Our experts for your industry sector are looking forward to your call or e-mail.
Public transport, coaches, railways

Andreas Hannig
Phone +49 5723 94 17 35
Telefax +49 5723 94 17 50
andreas.hannig@rosho.de
Viktor Brozmann
Phone +49 5723 94 17 12
Telefax +49 5723 94 17 50
viktor.brozmann@rosho.de
Individual solutions for bus and railway
Get your vehicle fleet into the digital fast lane: ROSHO Automotive Solutions is your partner for smart, digital and networked systems for safety and comfort in passenger transport.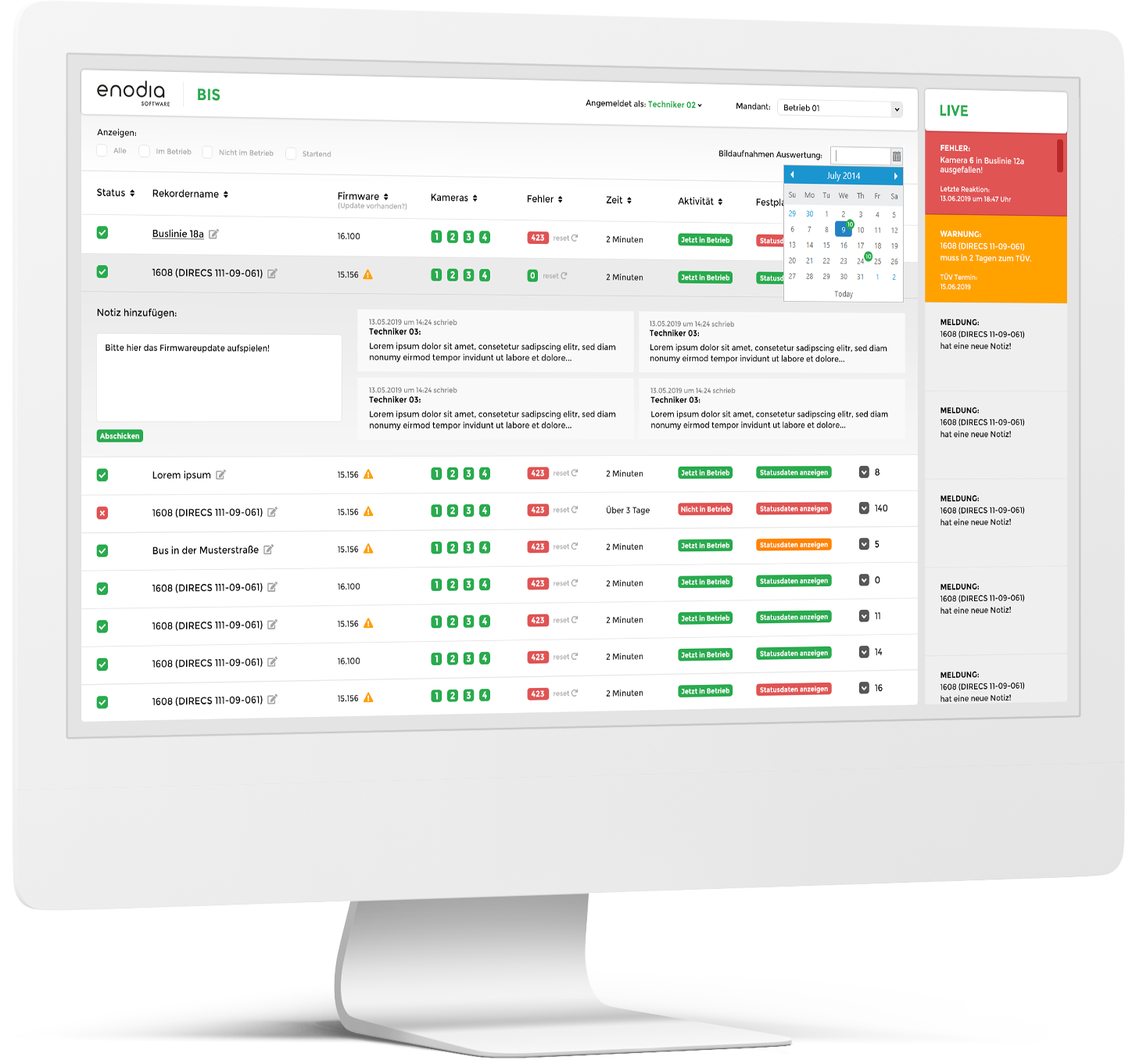 Smart Fleet Management
You can immediately find out what is happening in your vehicles: a smart fleet management system creates transparency across all vehicles.
Your advantages:
Position and status information of vehicles, components systems.
Real-time transmission to secure, central server systems
Logging, processing and use on client systems
Status messages by e-mail or text message